Sumner Village
The nights and mornings are just getting tinged with darkness and it makes me start to think about flavours and textures that make the cooler seasons so wonderful.
We were really luck to get the opportunity to taste Te Mata Estate's 2015 vintage at The George Hotel last week.
Wow what a great vintage and while many of the wines are ready to be enjoyed now, 'The Coleraine' will cellar well for many years to come. Look out for these wines on the new wine list that will be launching mid April. Over the coming weeks we will be tasting some wines on Friday's from 6pm, a little taste as you arrive to gather some feedback. This week we start with Mt. Beautiful Winery from North Canterbury. By producing elegant, certified-sustainable, estate-grown wines, they have found a way to capsure in the bottle, the climate and the richness of the land.
Wines aren't the only think getting a makeover – the cocktail list goes moody, the beers less fruity and the kitchen are busy developing some new dishes in the kitchen. Some of these will be getting a try out on the trust the chef menu which as many of you know is a fabulous, relaxed and interesting way to dine at Clink.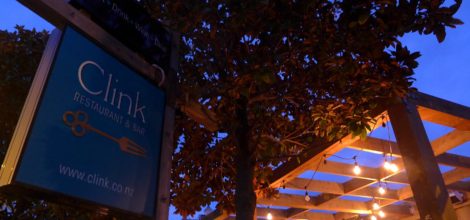 We can't believe the second month of the year is here already! Time flies when your having fun and planning the year out.
Let's have a quick look at what's been happening –
The CONTAINERS have gone from our Street! This was huge and we are loving the improved vista from the courtyard. It's been great to see the happy faces on everyone enjoying the sun out there and happier still because it gets hardly any wind, which we have had more than our fair share of lately!
So Summer was meant to start, we put on the live music, the DJ's the special events that we know you all love but we must of missed the memo that told us summer was delayed or in fact MIA altogether. Ah well New Years went off with a big bang, full to the brim with happy diners. It was great to see so many of you get into our NYE degustation dinner and with the first ever Champagne bar set up the bubbles were flowing.
January is always a bit quiet in the hood with most of you opting out to Bach's in other lovely spots or jumping on planes to find some sun, but school is now back in session and the year can really begin.
Inmates of Clink (they're our newsletter followers) have been getting some extra love with exclusive monthly offers. If you aren't amongst it yet make sure you sign up next time your in.
And finally a big welcome to Jasmine Patterson who will be our new Restaurant Manager. From Canada and with amazing experience she will be a great addition to the team